More work from Goddess.
My favorite media currently (besides photography) has been wood burns. Using a heated pen, I actually carve the lines into the wood creating a textured, graphic surface. I then use a variety of media to stain and color the surface for greater depth. My burns are done freehand and often come from a very playful, subconcious source. They are usually executed on found wooden objects, drift wood, or furniture.
Burns: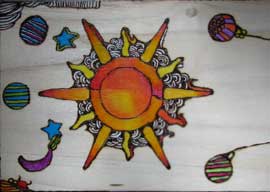 If you are interested in purchasing a burn from Goddess, please don't hesitate to contact me. I will be posting new burns when they are completed, so please check this site frequently, if you are interested in purchasing new work. Currently most burns are priced between $50-$150 depending on the size and intricacy of the work. I can also do commissioned pieced through special arrangement.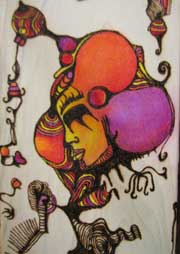 About the Artist:
The Artist behind Goddess Art is self-taught. Her evolution from simple pencil sketches and color pencils to paint and wood burns has emerged through experimentation and exploration of materials. She sites her major influences as; Africa, the 1890's, Jan Toorop, Spain, Rodriguez, Mucha, Beardsley, Vargas, high fashion, symbolism, sex and death. She lives and works under the varied light of the deserts and rain showers of Oregon. Her past-times include eating popcorn and keeping her cat from walking on her art pieces.
Copyright©2008 R.P. & Goddess Photography All Rights Reserved.